Find the answers to these questions about weather by clicking on the picture after each one. A new window will open, close it to return to this page. You could write down the answers as you find them or you could do a bit of multi-tasking by clicking here and typing them into a word processor. Good luck!
1. Is the weather nice in Nice? Find out by looking up the French city using "Find Your Forecast".
2. What is "precipitation"? How many different types are there? Click on Budgie to find out.
3. What are the three main ingredients of a thunderstorm?
4. Sometimes the weather is terrible. What types of "extreme weather" occur in the world?
5. View the water cycle animation. Can you explain it in your own words?
6. "Richard Of York Gave Battle In Vain" - what has this got to do with rainbows?
7. Watch the BrainPop movie about "Hurricanes". When does a "storm" become a "hurricane"?
8. Which was the snowiest winter of the 20th Century in Britain?
9. "Mackerel sky and mares' tails make lofty ships carry low sails." What does this weather saying mean? If you know a weather saying why not add it to the list.
10. What is the weather forecast for your area today? Find out at the BBC Weather site.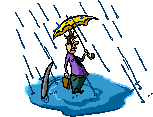 Now you've answered all of the questions why not make your own weather forecast? You can build your own weather chart and print it out. Click here!

Thanks to Tony Poulter for this Cyberhunt