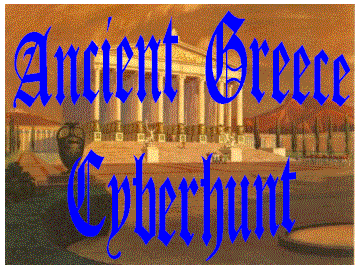 Click on the links below each question to find the answers. Good luck!
1. How did Apollodorus describe the monster Cerberus?
http://www.perseus.tufts.edu/Hercules/cerberus.html
2. Click on the link and do the "Container Quiz". What was a kylix used for?
http://www.emory.edu/CARLOS/ODYSSEY/GREECE/cntnrgme.html
3. Who was the king of "The Olympians" and who were his parents?
http://www.mythweb.com/gods/index.html
4. What was the ancient Olympic sporting event called the pankration?
http://www.perseus.tufts.edu/Olympics/pankration.html
5. Where does the word "alphabet" come from?
http://www.parkerpen.co.uk/history/greek.html
6. Explore the statue of Athena in the Parthenon. What materials was it made from?
http://www.mcdougallittell.com/whist/whact/U3/U3main.htm
7. Look at the scultures in the Acropolis Museum. What is "the Moschophoros"?
http://www.culture.gr/2/21/211/21101m/e211am01.html
8. Which creature is Heracles pictured fighting on this jar in the British Museum?
http://atschool.eduweb.co.uk/allsouls/bm/room4.html
9. Click on the link and view the "cyclorama". What could be seen in the Temple of Zeus?
http://www.unmuseum.mus.pa.us/pama/ztempjp.htm
10. Read the newspaper article? How did Heracles die?
http://atschool.eduweb.co.uk/40903026a/heracles/hercdeth.htm